Washing Machine Repair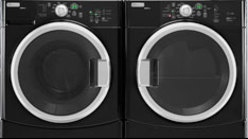 Laundry is one of the sneakiest household chores. You may not even realize that it needs to be done until suddenly you're up to your eyeballs in dirty clothes and linens! If you run a busy household, you know exactly how important it is to have a trusty home washing machine to depend on day in and day out to keep your dressers and closets full. Washing machines are complex appliances, however, and can sometimes run into serious problems due to accidental damage or simple wear and tear. If your machine is presenting operational difficulties such as not filling or agitating or is simply not turning on at all, contact Dependable Appliance Service at your earliest convenience. Prompt attention from a seasoned washing machine repair professional can put an end to all of your unit's undesirable behaviors and prevent your current issues from worsening. We can handle problems of all magnitudes and have the versatility to work on most major makes and models, so call or e-mail us today for GE washing machine repair, Maytag washing machine repair, and more.
The Dependable Appliance Service team has more than 18 years of direct experience with washer and dryer repair, so if you've been putting up with a unit that is difficult or impossible to use, let us take a look. Our washing machine repair experts will be able to examine your washer and accurately determine the exact cause of the trouble. After that has been pinpointed, we will take the proper measures to ensure that effective washer-dryer repairs are implemented. We don't simply want to solve the problem at hand—we want to perform quality washing machines repairs that will leave your unit in markedly better condition than it was in before. Some symptoms that we commonly address include:
Leaks
Not draining
Not filling
Not spinning
Not starting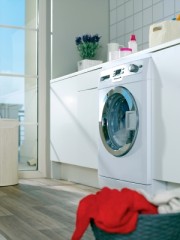 If you're experiencing these or other problems with your home washer, you are a perfect candidate for professional washing machine repairs. When you call Dependable Appliance Service, you will receive nothing but the finest quality replacement parts, cutting-edge techniques, and the attention of washer-dryer repair professionals who will exhaust every possibility in order to restore your appliance's service—and always at a reasonable rate.
The technicians at Dependable Appliance Service have something that can't be learned in a washing machines repair tutorial—a genuine interest in our work. Our years of experience, our constant honing of our craft, and our desire to provide every customer with quality, considerate service make us the natural choice for washing machine repair in Staten Island, Brooklyn, Queens, and Nassau County. Contact us today if you are in any way unhappy with your unit's performance—or lack of performance. We pride ourselves on our winning combination of quality and speed.
For your added reassurance, all of our washer and dryer repair professionals are fully licensed, bonded, and insured.
Washing Machine Repairs
Washer Repair
Washing Machines Repairs