Sub-Zero Refrigerator Repair
Despite some similarities, no two brands of refrigerators are ever made exactly the same. Each is manufactured with different features and style, and contains many nuances that require certain cautions or knowledge to ensure continuous, flawless service. Many refrigeration repair professionals have what it takes to successfully complete standard projects such as Maytag refrigerator repair or GE refrigerator repair, but are unable to adequately address issues with higher-end machines. Recognizing that owners of these units have fewer options and resources when they are facing operational difficulties with their fridge, the team at Dependable Appliance Service has made it a point to specialize in maintenance and repair for these brands, including Sub-Zero. Don't trust your high-quality unit to a refrigerator repair professional who is unfamiliar with your make and model—if you're in need of Sub-Zero refrigerator repair or you require help with another high-end machine, call or e-mail Dependable Appliance Service today. We proudly serve Staten Island, Brooklyn, and environs.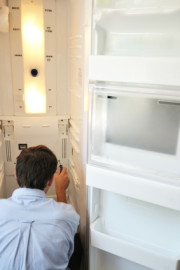 Our refrigerator repair experts have more than 18 years of experience with professional diagnostics and repair, and we are familiar with your unit's particular structure and composition. Our knowledge helps us swiftly pinpoint your refrigerator's operational flaws and establish the underlying cause of the problem. After we've isolated the issue, we will use our expansive knowledge to implement a refrigerator repair tactic that is properly suited to restore full functionality to your fridge and help prevent the issue from recurring. Our team has access to all of the finest refrigerator repair parts and will use only industry-approved procedures to service your unit.
At some point, even the highest-quality machines require maintenance or repair in order to remain strong and reliable. After you've taken the time to select and purchase the unit that's perfect for your specific household demands, don't skimp on maintenance by choosing a refrigerator repair service that lacks the tools or experience to properly address your model's particular issues. There is no such thing as a minor refrigeration repair need—any disturbance in your unit's performance could be indicative of serious trouble on the horizon. Whether your fridge has begun leaking, stopped cooling properly, or stopped running entirely, it is vital that you seek the attention of a qualified refrigerator repair service as soon as possible. Contact us today if your machine is:
Cooling too much
Cooling too little
Leaking
Making excessive noise
Cycling frequently
Leaking
The Dependable Appliance Service team lives up to our company name by striving to provide each and every customer with same-day results, friendly assistance, and refrigerator repairs that will have the strength to endure your daily demands. We are even available to provide emergency refrigerator repair service. Don't just settle for guesswork—make the smart choice, and call our refrigeration repair experts. One of our representatives will be more than happy to answer any questions you may have about refrigerator repairs and provide you with more information on our company policies and procedures. 
sub-zero refrigerator repairs
sub-zero fridge repairs
sub-zero fridge repair