Refrigerator Repair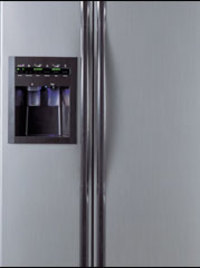 Time is always of the essence when it comes to fixing faulty appliances, but never is this truer than in the case of refrigerator repair. Even relatively small symptoms, like strange noises or leaking, can be indicative of an imminent breakdown, which could result in a massive amount of food spoilage. If you've noticed any recent changes in the way your fridge runs or if you are unhappy with the service you've been receiving from your machine, please don't hesitate to contact the refrigerator repair experts at Dependable Appliance Service. We are a family-owned business dedicated to helping the citizens of Staten Island, Brooklyn, Queens, and nearby communities with all of their refrigeration repair and maintenance needs. Whether the trouble lies in your compressor or you simply require a replacement door seal, you can count on a precise assessment of your needs and professionally implemented results that will withstand years of use. For refrigerator repairs that can restore your unit to like-new condition, contact us right away. We are available via e-mail or by telephone, so drop us a line at your earliest convenience.
No refrigerator repair manual can compare to the level of service you'll receive when you hire a professional from Dependable Appliance Service to fix your ailing fridge. Our team makes it a point to continually further our education by staying abreast of all of the most recent trends that develop in the appliance repair industry. This constant exposure to the newest techniques helps ensure that you receive the most reliable results possible. We never use anything but the finest refrigerator repair parts and tools and are available to work on most major makes and models. Contact us today for Maytag refrigerator repair, GE refrigerator repair, and more. In addition to main refrigeration compartments, we are also qualified to work on other features, so if you're in need of refrigerator freezer repair or refrigerator ice maker repair, we are the name to know in Staten Island and beyond.
Some complaints that often require the attention of a seasoned refrigerators repair professional include:
Unit not running
Leaking
Not cooling
Cooling too much
Door not closing
Interior light not shutting off
Unit making disruptive noises
If you've noticed any of these symptoms or have any other reason to suspect that you're in need of professional refrigerators repair, please don't hesitate to seek the help of Dependable Appliance Service. We have more than 18 years of experience and are comfortable handling refrigeration repairs of all types and severities. Refrigerator repair service is, with rare exception, more economical than replacing your unit, so before you give up on your appliance, let the team at Dependable Appliance Service have a look. A few adjustments or refrigerator repair parts could be all your fridge needs to be restored to great working condition.
Our team aims for comprehensive, thoughtful customer service. We strive to provide you with great results at a price that won't break the bank and will never, ever sacrifice the quality of our craftsmanship just to get the job done quickly. Contact us today to set up an appointment. Fast action could save you countless dollars and a lot of hassle, so call to get our pros started on your fridge repair now!
Refrigeration Repair
Refridgerator Repair
Refrigerators Repair