Dryer Repair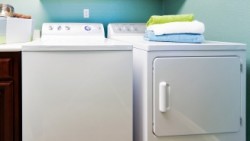 Washing machines are great, but they are about half as useful without their natural counterparts—dryers. While laundromats and clotheslines can do in a pinch, there is nothing quite like the convenience of having a trusty home dryer to tumble your clean clothes and linens. If doing laundry has become a complicated endeavor because your unit is experiencing operational problems or can't perform at all, you don't have to seek alternative drying methods. You simply need to pick up the phone and contact the dryer repair experts at Dependable Appliance Service. Our team has more than 18 years of experience with dryer repairs and is always staying abreast of all recent industry developments so we can be sure to bring each and every customer effective results. Serving Staten Island, Brooklyn, and environs, we are your source for help with most major makes and models. Call or e-mail us today for quality Maytag dryer repair, GE dryer repair, and even stacked washer-dryer repair.
Even if your appliance's complaint seems minor, it is a good idea to seek prompt dryer repair service in order to prevent your troubles from getting worse. Customers often contact us for dryer repairs when they have been experiencing:
No tumbling
Overheating
Clothes not drying
No heating
Excessive noise
Although it is easy to write off a broken dryer as just a minor annoyance, the reality is that dryer repairs can actually have a profound effect on your daily life. If you're experiencing problems with the way your unit works, contact a seasoned professional from our team so you can enjoy maximum:
Productivity—Appliances are supposed to save you time and hassle, not create more. Who has time to contend with their dryer all day when there are so many other things to do? If doing your laundry has become a difficult or all-day affair, contact us right away so that we can help you enjoy proper use of your machine once again.
Energy efficiency—An ineffective dryer forces you to run your laundry through several cycles just to get it dry. This might seem like a minor inconvenience, but all of those extra minutes can really add up, and before you know it, the balance due on your energy bill could be astronomical—far higher than the cost of dryer repair. Not only is this bad for your wallet, but it's also a drain on the environment. Prevent pennies from slipping through your fingers every time you dry your clothes: Seek professional washer-dryer repair service to ensure that you see the best performance from your appliance.
Property preservation—Clothes dryer repair can also help you avoid serious damages to your home's gas or electrical infrastructures and prevent serious safety hazards that could compromise your health and the condition of your home. Diligent appliance maintenance translates into responsible property maintenance.
Throw away that dryer repair manual—the team at Dependable Appliance Service has the experience and education to provide a proper diagnosis, and we will be able to determine the best route to making your appliance well again. Washer and dryer repair service is, with rare exception, a less expensive option than replacing a faulty unit, so if you're unhappy with the way your appliance has been performing, it's a smart idea to find out if the current problems are fixable. Chances are that your dryer can be restored to perfect working order with simple maintenance or a replacement part.
The Dependable Appliance Service team puts customer service and satisfaction above all else. Our excellent craftsmanship and individualized approach make us stand out from other clothes dryer repair providers in the area and continue to earn us a fine reputation throughout Staten Island, Queens, Brooklyn, and even into Nassau County. If you're in the market for washer and dryer repair, look no further than Dependable Appliance Service. We are a family-owned business that strives to keep dryer repairs affordable without compromising on the quality you receive. Call or e-mail us today to talk to a representative to learn more about our services. We'd be happy to answer any questions you may have.
Washer Dryer Repair
Clothes Dryer Repair