Dishwasher Repair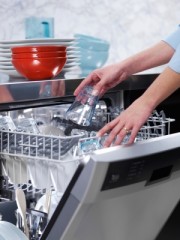 After mealtimes and parties, the last thing anyone wants to do is stand at the sink and scrub each individual plate and fork. But if you're saddled with a dishwasher that can't perform properly, that's exactly what you're stuck doing, night after night. If you're sick of seeing those dirty dishes pile up in your sink until someone finds the time to attend to them, now's the time to look into professional dishwasher repair. Call or e-mail us today for everything from dishwasher rack repair to help replacing your dishwasher's drain valve. Dependable Appliance Service is ready to assist you in solving any dilemma you may be having with your unit.
Our dishwasher repair technicians will begin by asking you about details of your dishwasher's unwanted behaviors. This information will help us determine where the underlying problem may be. We will then troubleshoot and examine your machine to pinpoint the cause of your unit's symptoms. We'll then use the best dishwasher repair parts and procedures in the industry to restore your service to normal.
When you select the team at Dependable Appliance Service to address your dishwasher's repair needs, you can expect:
Respect for your time—We're not one of those companies that will quote an extremely wide time window for arrival and then fail to be punctual. We will arrive promptly and get right down to business so that you're not stuck twiddling your thumbs. Our technicians will also strive to bring you fast dishwasher repairs so that you can start enjoying quality service from your machine as soon as possible.
Respect for your property—Depending on the complexity of your unit's damage, dishwasher repairs can be fairly invasive. We will make a special attempt to contain our work area so your space is not drastically affected by our repair process. We will also safeguard your floors, walls, countertops, and other surrounding surfaces so that no cosmetic damage is inflicted on your home while we perform dishwasher repairs.
Open communication—Our pros will be more than happy to answer any questions you have about our dishwashers repair procedure and give you tips on how future problems can be avoided through careful maintenance.
Experienced technicians—The Dependable Appliance Service team is fully licensed, bonded, and insured, and we have more than 18 years of experience under our belts. We also have the versatility and skill to work with most major makes and models, so contact our professionals today for Bosch dishwasher repair, KitchenAid dishwasher repair, and more.
It has been proven that washing dishes by machine is both economically and environmentally superior to washing them by hand, so the cost of dishwashers repair is actually an investment when you consider the water and energy that would be expended by hand washing all of your dishes over a long period of time. Additionally, dishwasher repair is typically less costly than replacing the entire unit. When you consider the amount of time and money that dishwasher repairs can save you, they simply make sense. Call or e-mail us if you have any questions about our company or our techniques. We will be more than happy to assist you and make dishwasher repair a positive experience for your household.
Whether you're upset that your dishwasher is leaking, not draining, or simply not turning on at all, the team at Dependable Appliance Service can help. If you're looking for durable, superior craftsmanship at an affordable rate, look no further. We are a family-owned business whose primary goal is to use our knowledge to help you enjoy a safe, productive living and working environment. E-mail us or call now to set up an appointment!
Dishwasher Rack Repair
Dishwasher Repair Service
Dishwasher Repairs