Appliance Installation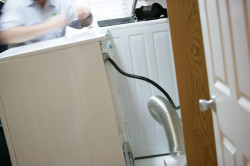 Dependable Appliance Service is Staten Island's source for professional appliance installation that is both fast and affordable. No matter what type or brand appliance you need to have installed, you can always trust us to provide you with quality workmanship and treat you and your home with the utmost respect and integrity. Our appliance installers have more than 18 years of experience, and we continuously keep current on the latest advancements in appliance technology to ensure that our craftsmanship remains second to none.
Many customers wonder why appliance installation requires the assistance of a professional. It is important to remember that despite their ubiquitous presence in our homes, most appliances are not simple machines that can be ready for service just by simply plugging them into the wall like a hair dryer or toaster. Specialized knowledge and the appropriate tools are required in order to have a major appliance completely and correctly installed and ready for long-term, optimal performance. Furthermore, amateur appliance installation could pose serious dangers. Don't run the risk of personal injury, electrocution, or potential fire hazards by working as an inexpert appliance installer—instead, call Dependable Appliance Service! We install appliances with flawless precision and will make sure that your gas, electrical, and water line connections are safe and secure. We will even take the time to safeguard your surrounding walls, floors, and countertops to ensure that no collateral damage occurs to your home throughout the appliances installation process. Our attention to detail and dedication to providing each project with the attention that it deserves will make certain that you receive optimal performance from your appliance for many years to come.
We offer appliance installation for all major home appliances, including:
Refrigerators
Washing machines
Dryers
Dishwashers
Ovens
Stoves, cooktops, ranges
Freezers
And many others
There are plenty of companies that offer appliances installation in the greater Staten Island area, but only Dependable Appliance Service provides customers with the winning combination of personalized attention, quality craftsmanship, and same-day service. We understand that when we install appliances, we are making a significant, long-term impact on various factors in your everyday life, including your machine's performance quality, general energy usage, and even its overall life span. Make sure that you get the most out of your machine by calling or e-mailing the appliances installation team at Dependable Appliance Service today.
All of our appliance installers are fully insured, bonded, and licensed, and we are committed to providing our customers with reasonable rates no matter what. Set up an appointment now!
appliance installers
appliance install
appliances installation