Air Conditioner Repair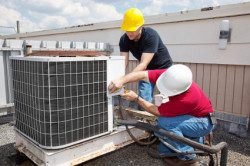 New York is often depicted as a cold, snowy place, but once the summer rolls in, temperatures commonly reach into the 80s and above. The hot and humid weather that our area experiences is not simply uncomfortable—it can actually be dangerous for those in poor health and have an overall negative effect on your ability to keep up with daily chores and tasks. Yet, too many homes are equipped with broken or inefficient air conditioning service that fails to adequately cool and dehumidify the space. If you are in need of professional air conditioner repair, don't sweat it—call or e-mail Dependable Appliance Service right away for fast relief from the heat. Our air conditioning contractors can work on window and wall units of all makes and models, and we can have the cool air flowing through your rooms again in no time. Something as simple as a refrigerant leak or broken fan could be the only thing keeping your home hot and sticky, so don't hesitate: Pick up the phone and get in contact with us at your earliest convenience.
In our more than 18 years of air conditioner repair experience, the Dependable Appliance Service team has remedied problems of all types and severity levels. You can count on us for accurate symptom diagnosis and reliable air conditioning repair service performed with only the most up-to-date and effective techniques and tools.
We can solve a variety of air condition service problems, including:
Not turning on
Not enough cool air being produced
Not cycling off
Air not getting dehumidified
Cycling too frequently
Poor circulation/blowing power
Strange sounds coming from inside system
We understand that while all air conditioning systems have similarities, each customer's needs are unique. That's why we always take an individualized approach to every A/C repair project—to be sure that your unit's specific issues are promptly discovered and accurately addressed. We will begin by listening to you describe the nature of your A/C's undesirable behaviors. Then your Dependable Appliance Service air conditioning contractor will examine your unit, locate the underlying problem, and select a repair method that will have the reliability to serve you for years to come. Unlike amateurs, we are experienced with the safe handling of potentially dangerous refrigerants and have access to the proper maintenance tools and replacement parts to ensure complete, correct air conditioner repairs.
Some of the air conditioning services we frequently perform include:
Locating and plugging refrigerant leaks
Replacing leaked refrigerant
Replacing or repairing fans
Clearing blockages in cooling or evaporator coils
Repositioning evaporator coils
Resetting motors
Repairing malfunctioning compressors
Checking for electrical defects
Cleaning air filters
If you're sick of putting up with excessive humidity and heat in your home all summer long, contact Dependable Appliance Service. We strive to bring every customer same-day air conditioning service, and our pros even provide a 90-day parts and 30-day labor warranty with each project. Contact us today by telephone or e-mail to learn more. We will be more than happy to educate you further about your air condition service options and answer any questions you may have about our company.
For your added peace of mind, our air conditioning contractors are fully licensed, bonded, and insured.
Air Conditioning Service
Air Conditioning Contractors